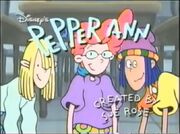 Pepper Ann is an American animated series created by Sue Rose and aired on ABC. It debuted on September 13, 1997.
Pepper Ann starred cartoon adolescents and charted their ups and downs at Hazelnut Middle School. It aired as part of the Disney's One Saturday Morning block. The character originated in a comic strip published in YM magazine
The show centers on the titular character, Pepper Ann Pearson, a 12-year-old girl whose emotions come out in fantasies. The show was designed to be a "different sort" of girl's cartoon, and features many strong-willed female characters who aggressively reject the idea of passive femininity.
The show's plots were generally typical of the developing format that has risen out of federal E/I requirements: Pepper Ann is presented with a moral dilemma, chooses the wrong decision, faces the consequences and learns a moral lesson. The series was mostly rated TV-Y. However, the Season 1 finale, "In Support of," raised controversy.[citation needed] In the episode, Pepper Ann is told she would need "support" to jump on the trampoline.
Thinking the teacher meant "breast support," a paranoid, still flat-chested and seemingly unready Pepper Ann is convinced she now needs a bra. When at the trampoline, and asked where her "support" was, Pepper Ann flashes the class, (her bra) although it is only seen in shadow. (The gag is that by "support," the instructor meant a "support buddy.") That episode was rated TV-Y7.