We are a collaborative community dedicated to providing our visitors with detailed information on all the different aspects of the Disney television series
Pepper Ann
, including episodes, characters, locations, and much more. This is a fan-made site, and therefore any visitor is free to edit and add any information they have about the series to these wiki pages.
Click on any character's image to be linked to their page
Featured Article - April 2017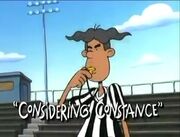 Considering Constance
Season 4, Episode 11B
Constance Goldman is sick of being so awkward and shy. Being that she's long admired how cool Pepper Ann is, she decides that if she hangs out with her maybe some of her "coolness" will rub off.
Unfortunately, Constance gets a little more of Pepper Ann's personality than she bargained for when Pepper Ann begins trying to turn her into a carbon copy of herself. Read more >
Helping Out
To write a new article, just enter the article title in the box below.
Not sure where to start?
New to the wiki and not sure where to start? Here are a few pages that can help:
Adding content
If you're looking to help out, you can find a list of the most-needed edits below:
Ad blocker interference detected!
Wikia is a free-to-use site that makes money from advertising. We have a modified experience for viewers using ad blockers

Wikia is not accessible if you've made further modifications. Remove the custom ad blocker rule(s) and the page will load as expected.