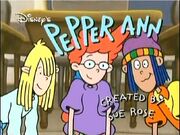 We are a collaborative community dedicated to providing our visitors with detailed information on all the different aspects of the Disney television series
Pepper Ann
, including episodes, characters, locations, and much more. This is a fan-made site, and therefore any visitor is free to edit and add any information they have about the series to these wiki pages.
Click on any character's image to be linked to their page
Featured Article - March 2018
Alice Kane Went Down To Calcutta
Season 5, Episode 6B
Alice Kane tells Pepper Ann that she now wants to settle their differences and asks Pepper Ann to forgive her. Pepper Ann is taken aback by this and decides Alice Kane must be up to something and is simply trying to gain her trust so she can betray her later, leading her to grow quite paranoid about any activity the two new "friends" do together.
Read more >
Helping Out
To write a new article, just enter the article title in the box below.
Not sure where to start?
New to the wiki and not sure where to start? Here are a few pages that can help:
Adding content
If you're looking to help out, you can find a list of the most-needed edits below: